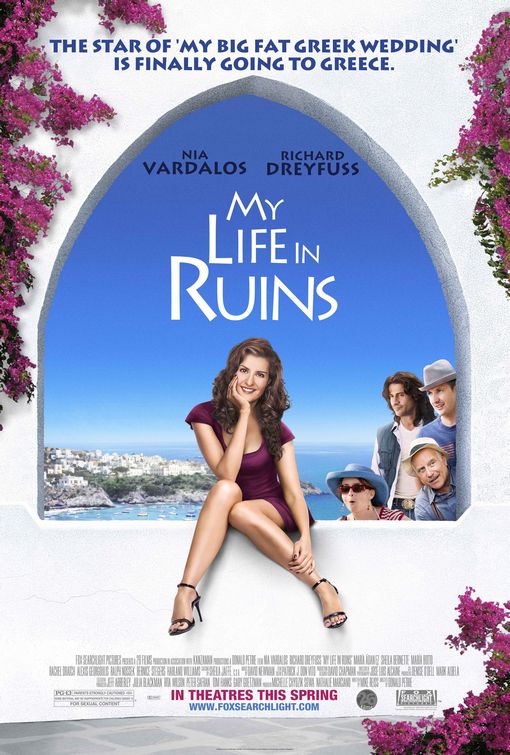 My Life In Ruins
starring
Nia Vardalos
(from
My Big Fat Greek Wedding
) as Georgia, a college professor of Classical Greek studies who has lost her job at the university & has had to take the job as a tour guide to the most annoying of tourists. Feeling this job is beneath her & having a deep love for Greek history, she tends to bore most of her tour companions which tend to leave her less than stellar evaluations. Uptight & disillusioned Georgia has lost her "kefi," that joie de vivre, that spirit that Greeks seem to have. Will this group of stereo-typical tourists help her find her light or will she finally say "chairo" to Greece forever?
This is a cute film. My dad will love it. My complaints however are the acting is so-so & the ad-lib bits were just weird & seemed to distract rather than fade into the background. Having said that, there was one part in the film that had us (mostly women) laughing so hard. We would finally get ourselves under control, then someone across the theater would giggle & that would have us busting at the seems again. By the time we had all composed ourselves we had missed an entire scene. I had never felt such camaraderie in a theater before. LOL It made the ticket worth the $9.50 after all. Good times.
While this was a cute film, I would save your money on the movie ticket & wait for it to come out on video. This movie was, in my mind, in league with made-for-TV movies akin to what you might see on
Lifetime
or maybe the
Hallmark Channel
(however, it may be a bit too risque for Hallmark). It is cute & my dad will love it but I wouldn't put it up there with
My Big Fat Greek Wedding
. I would probably give it a B or B-...cute, but not one I'll purchase or probably ever watch again unless I'm really bored or at my parents.